To make sure that we are going to print what you want, you will have to approve a digital proof before we start producing.
It is very important that this final check is done by you, because this is the last check before the production starts. After approving you can not change your file anymore! Please note there is a deadline for approving to get the order by the expected delivery date.
Check for possible errors in the design, but also for spelling mistakes, for example. The e-mail of the proof can also contain warnings about how suitable your file is for the product you order. Pay attention to this! Check these points to see if your proof looks like you want:
File size
You can order the desired product size on the website. Sometimes it is possible that the size of the file does not completely match the size that has been ordered. In this case we scale the file to the ordered size so that it can still be printed correctly. However, if we have to adjust the file in such a way that the height and width ratio is adjusted, we will not send you a proof. You will then receive a message from us with more information to solve the problem.
Resolution
This is perhaps one of the most important factors for a beautiful product. By resolution we mean the number of pixels (dots) per inch that are photos, for example. These are all very small boxes with a color that together form an image. It is possible that if you have few dots an image is less sharp than when you have more of them. You can not always determine the number of dots yourself, this is usually done by the device with which an image has been created. Websites use 72DPI, for printing we recommend 300DPI! It is therefore possible that a logo of your website is not sharp enough to be printed. You will then receive a warning from us. You can then decide whether you want to print with a possibly less sharp result, or if you want to take action to deliver a sharper file.
Text margin
The text margin is very important for a correct product. This margin ensures that your text will not be too close to the edge or cut off. 4mm on each side is needed to create a safe margin. For example, if we are going to print an A4 format product, the text must be within the dimensions 206x293mm. This is therefore slightly smaller than the final A4 product so that the text is easy to read. Do you have a different size of product? Then check the sizes and pull 4mm from all the outer edges to reach the maximum text surface.
Bleed
The bleed margin is an important part of the print file. This margin ensures that you do not get any white edges around your printing. During finishing or cutting it can happen that the machine is a milimeter next to it, if the design stops at the exact size you can get a white (unprinted) edge. To prevent this, you can best deliver 3mm on each side (6mm length x 6mm width) to remove this risk. See an example below.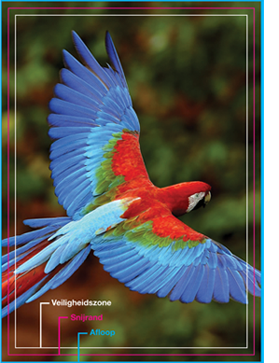 Approve the proof by clicking the green button 'Start production'.
Keep in mind that it can not be changed anymore after approval!
Note that in the first instance we will show your proof as it would appear printed. You can download a technical version of your proof on the 'check your proof' page. If we have already seen important deviations during checking, we will let you know via the mail with our proof. So you really only have to check these comments and see if your proof looks like you would like.